Details
The new HSP 1/8th scale radio controlled crawler is equipped with twin motors and a lot of metal parts to ensure solid construction and performance. A high precision ESC is also equipped on the Car. The 1/8th scale rock crawler allows you to climb over the most challenging rugged terrain.
The Model comes with a 2.4G radio which means the range is longer and more stable plus you do not have to worry about interference from other drivers.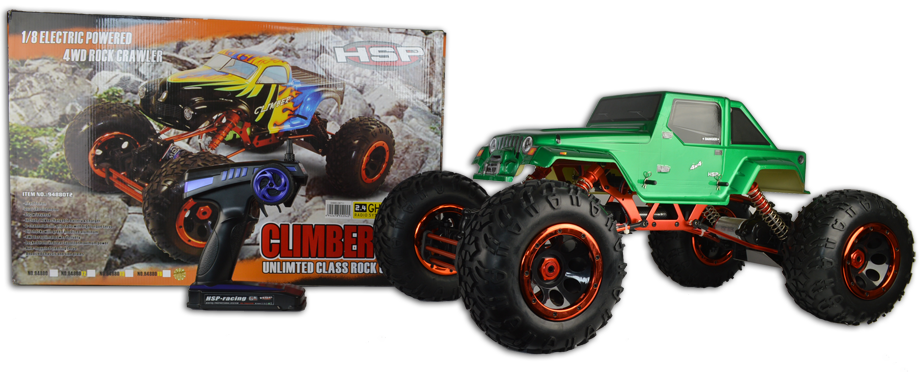 1:8 SCALE
This RC car measures 645mm x 225mm x 375mm (length, height, width)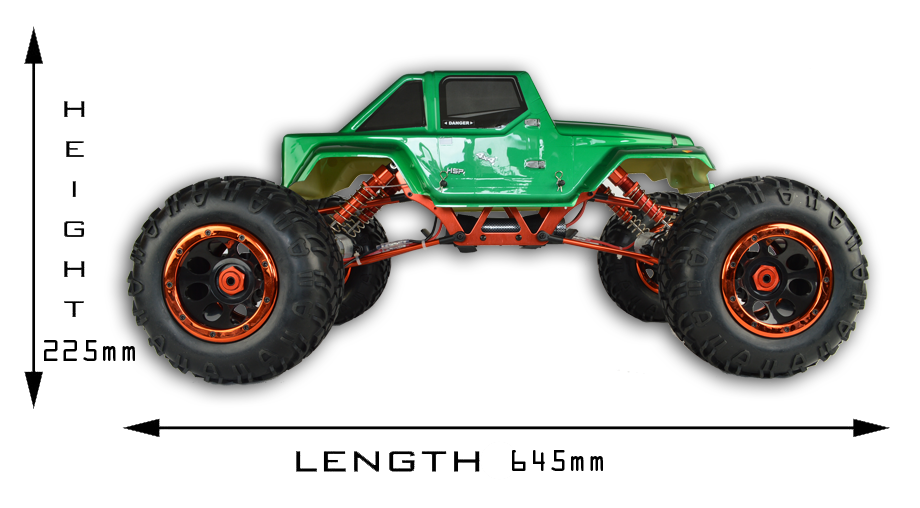 2 x POWERFUL 540 BRUSHED MOTOR
Twin motors allow you to climb over the most challenging rugged terrain.


ALUMINIUM OIL FILLED SHOCK ABSORBERS
Adjustable extra long aluminium oil-filled shocks are mounted to aluminium towers that allow you to adjust the angle and tension.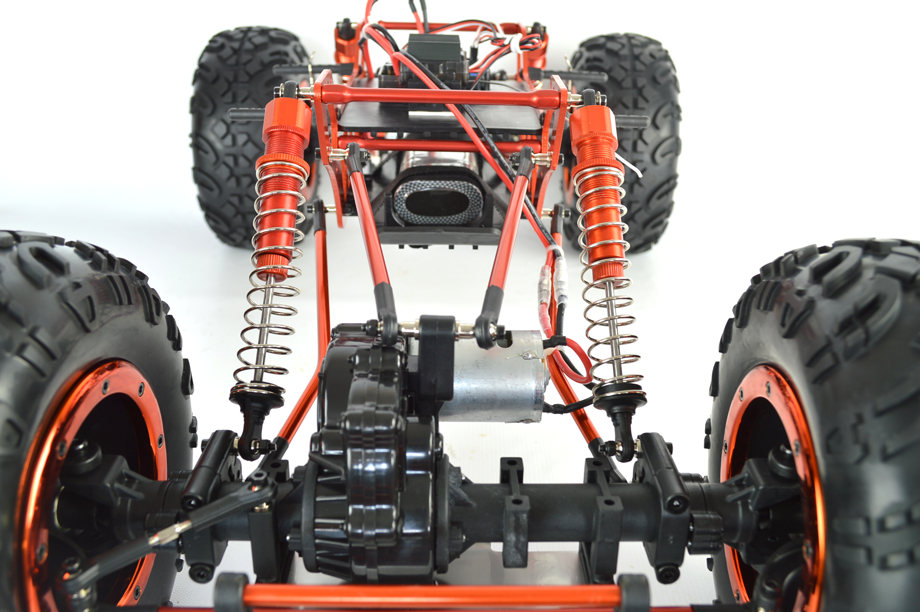 HIGH QUALITY OFF-ROAD CLIMBING TYRES
Chrome plated beadlock is fixed by 18 screws ensuring the tyre and wheel rim do not seperate.

SOLID ALUMINIUM CHASSIS
The perfect design enables the crawler to climb over the most challenging rugged terrain.

INDEPENDENT FRONT/REAR GEAR BOX
For climbing the most difficult rocks.


ALL NEW 2.4GHz RADIO TRANSMITTER
All new 2.4GHz radio technology is used. This is more reliable than the old FM equipment and allows multiple RC cars to be used in the same area without interference.
Extra informatie
Artikelnummer
H94883
Manufacturer
HiSpeed
Schaal
1:8
Bouwen
RTR
Aandrijven
4WD
Voor Terrein
Off Road
Radio Aparatuur
2.4 GHz
Type
Crawler
Motor / Engine
Brushed
Specificaties

Altura: 225mm
Longitud: 645mm
Ancho: 375mm
Ratio de engranajes: 1:48
Motores: 2 x 540
Peso: 5300g
Distancia entre ejes: 460mm
Radio: 2CH 2.4 GHz
Diámetro de la rueda: 182mm
Ancho de la rueda: 82 mm
Batería: 7.2 v 2000 MaH

Functies

Servo impermeable, ESC y receptor
Caja de engranajes delantera/trasera independiente
Sistema accionado por motor gemelo
Protectores laterales sólidos de aluminio
Los amortiguadores rellenos de aceite de aluminio
Equipado con un montón de piezas metálicas
1/8 el diseño del cuerpo de la báscula
Neumáticos de escalada todoterreno de alta calidad
El diseño perfecto permite que el Crawler suba sobre el terreno accidentado más desafiante
La batería está bien fijada con un conjunto de placas, seguro pero fácil de quitar.
El beadlock de la rueda cromado está fijado por 18 tornillos que aseguran que el neumático y la llanta de la rueda no se separen.
Apto para todos los terrenos interiores & exterior

Heb Je Nodig Om Het Te Gebruiken
Dollar Price For Bonanza
183.87
Vragen:
Er zijn nog geen product vragen
LEVERING INFORMATIE
Leveringskosten en tijd zullen afhangen van de grootte van de bestelde artikelen
RESERVEONDERDELEN
Zij zullen tussen de 2-5 werkdagen duren. De kosten zijn afhankelijk van het aantal onderdelen en de grootte.
Germany: €3.70 - €7.40
Spain: €7.40 - €13.30
France: €7.40 - €11.80
Ireland: €7.40 - €8.90
Italy: €7.40 - €13.30
Netherlands: €5.95 - €8.99
Portugal: €7.40 - €10.30
Denmark: 42kr. - 72kr.
Sweden: 52.80kr - 105.60kr
NORMALE GROOTTE MODELLEN
Dit omvat niet zeer grote voorwerpen zoals elektrische fietsen, grote scooters en quads. Levering duurt 2-5 werkdagen.
Germany: €7.40
Spain: €9.99
France: €8.99
Ireland: €7.40
Italy: €9.99
Netherlands: €8.99
Portugal: €9.99
Denmark: 72kr.
Sweden: 105.60kr
ZEER GROTE OBJECTEN
Zeer grote voorwerpen zoals elektrische fietsen, grote scooters en quads. Levering duurt 2-5 werkdagen.
Germany: €49.90
Spain: €49.90
France: €49.90
Ireland: €49.90
Italy: €49.90
Netherlands: €49.90
Portugal: €49.90
Denmark: 499kr.
Sweden: 499kr.
Misschien vindt je deze ook interessant...
SALE

€ 244,23

Normale prijs: € 329,99
15 klanten-reviews
7 months hard crawling and still going strong

The Green Man (update 7 months on) December 06, 2013

Per

UPDATE - 7 MONTHS ON....
Bought this 7 months ago and it is great fun. I've taken it up Kinder Scout (6 miles) several times on 3x 4000mAh Lipos.It's been through 10 foot snowdrifts and through streams. I've replaced a few bits but nothing too major. The 50T/15T diff gears are difficult to get and can loose a tooth if you really bash it. I've got through 2 already!! I use it VERY hard. It has fallen down 20 foot rock faces and has rolled down hills on many occasions. I don't expect to not break bits (30 years RC experience). I've added a 1/10 land rover extreme bodyshell and it looks superb. It has got me so into rock crawling that I have now bought and made a GMade R1 which is even better (but a lot more expensive and smaller) and I am starting to look at 1/5th Killer Krawlers... I create fun amongst walkers wherever I go crawling. I drive the HSP everywhere I go walking then get the R1 off my rucksack when I get to juicy rocks. Derbyshire is absolutely full of juicy rocks...
This is a very capable and robust crawler. I can't recommend it highly enough.

super rc

vincent June 13, 2013

Per

super pour faire du crawle

SKU: H94883

vinc May 27, 2013

Per

super crawler

HSP ROCK CRAWLER

Shaun April 21, 2013

Per

Great car, very big and heavy would recommend to anyone.

Beast . . .

The Green Man March 01, 2013

Per

After much research I just couldn't resist a 1/8 scale crawler over a 1/10 scale. The size difference is huge. This 1/8 crawler will go over large logs where 1/10 will be too small to get started on it. Most competitive crawling is with 1/10 and it is easier to find suitable courses in a smaller scale. Even so the massive size is just so much fun. I now see courses everywhere I go !! There are some upgrades that are worth doing to make it better:
Cheap 4 wheel steer - the crawler almost has 4ws already - all you need: 98021 servo plate, 98022 servo mounts, 98010 steering link (only sold in sets of 2), suitable servo (3kg or more, £10ish), Y splitter receiver cable (to connect 2 servos to the single channel), a servo reverser (to make the front servo act as normal but to reverse the rear servo to get the opposite wheel direction from front to back), some cable ties. I Ebayed for a Y cable and signal reverse . . .
Tyres are worth upgrading - google for recommendations (about £25 for a set of 4 with foams). The more grip from the tyres the better you will crawl. Soft memory foam is essential for maximum deformation at contact points.
Wheel weights - it is worth adding weights to at least the front wheels. It really helps with getting up steep inclines.
I've also added alloy side arms.
You'll also need to drastically trim the bodyshell to keep it clear at all possible positions. It needs loads cutting from it to make it truly fit.
I would suggest a 7.4V Lipo 2S 30C 5000mAh battery. ESC copes fine and you get an eternity of runtimes with decent grunt. May be worth upgrading motors at some point.
I now take this everywhere I go walking as there is always an amazing rock that just must be conquered !! I just put a shoulder strap on it. Pretty heavy but not too bad.
I love this machine. Great price and customer service from Nitrotek. Very impressed. Buy one.