Details
Werewolf 1/8 Scale Brushless Electric RC Buggy 2.4ghz - PRO Version | Radio control car
Our highest spec electric radio control car is the all new 1/8th brushless Werewolf. Designed with pro racing in mind this model will allow you to race and win at a National level. It's feature packed with many new exclusive innovations found only on this model that puts it ahead of the competition. The brushless setup with big powerful motor and 11.1V li-po battery allows the Werewolf to go well over 50mph as standard out of the box and then the upgradeable setup. For a race though a model needs to be quick on the corners as well as the straight and the Werewolf certainly has that covered with the highly adjustable settings and high spec design making it an all round race winner.
The Werewolf comes in two different versions, standard and pro. Although very similar the pro version has been upgraded with sway bars and front CVD shafts fitted as standard. The pro version also has aluminium shocks with adjustable turnbuckles whereas the standard has plastic shocks.
The brushless radio control car comes fully built with everything you need to get racing apart from eight normal AA batteries for the radio handset. As the radio equipment is 2.4G it means many models can be raced together at the same time. This is a high spec radio control car racing model that at full speed requires some real skill to control it. It is therefore recommended for ages 14+
COUNTERSUNK ALUMINIUM CHASSIS
The solid aluminium chassis features countersunk screws that will protect your model from any rocky or bumpy terrain damage.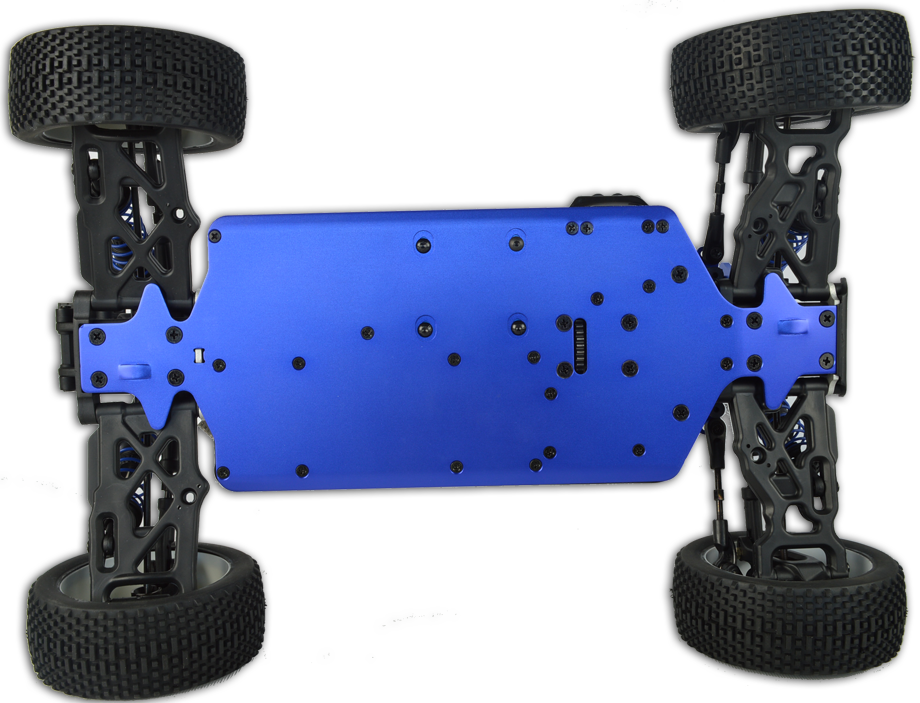 11.1v Li-po BATTERY WITH SIZE ADJUSTABLE BATTERY COMPARTMENT

The big LiPo battery makes the car very fast. The battery compartment is adjustable so can fit other after market batteries and even two batteries can be fitted at the same time.

1/8th SCALE
This buggy measures 505mm x 185mm x 310mm (length, height, width)
STEEL GEARED CENTRAL DIFFERENTIAL
As well as front and rear differentials, this model also features a third central differential to give the best possible handling.

METAL GEARED STEERING SERVO
The gears in the servo have been upgraded from metal to plastic.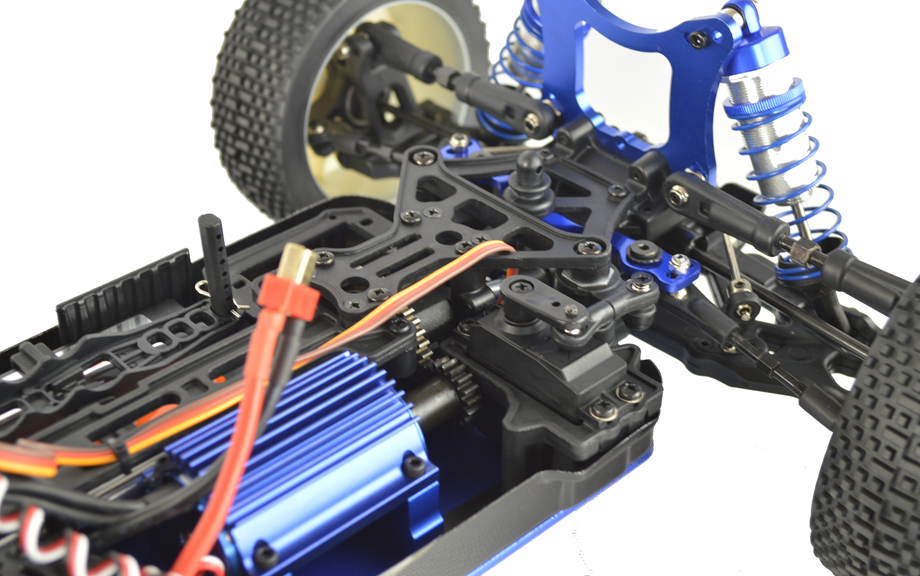 COOLED FAST BRUSHLESS SETUP
Brushless motors are much faster than standard ones. The motor has an aluminium heat sink and the speed controlled has its own fan to keep all the electronics operating at their peak temperature.

ALUMINIUM CENTRAL DRIVE SHAFT
The front and rear working differentials greatly improve handling. They are connected by a strong aluminium central drive shaft.

ALL NEW 2.4GHz RADIO TRANSMITTER
All new 2.4GHz radio technology is used. This is more reliable than the old FM equipment and allows multiple RC cars to be used in the same area without interference.

UPGRADED CVD's
The normal dogbones have been upgraded to CVDs in this Pro version.
UPGRADED ALUMINIUM SHOCKS AND SWAY BARS
This pro version has also been upgraded with adjustable aluminium shocks and sway bars have been added.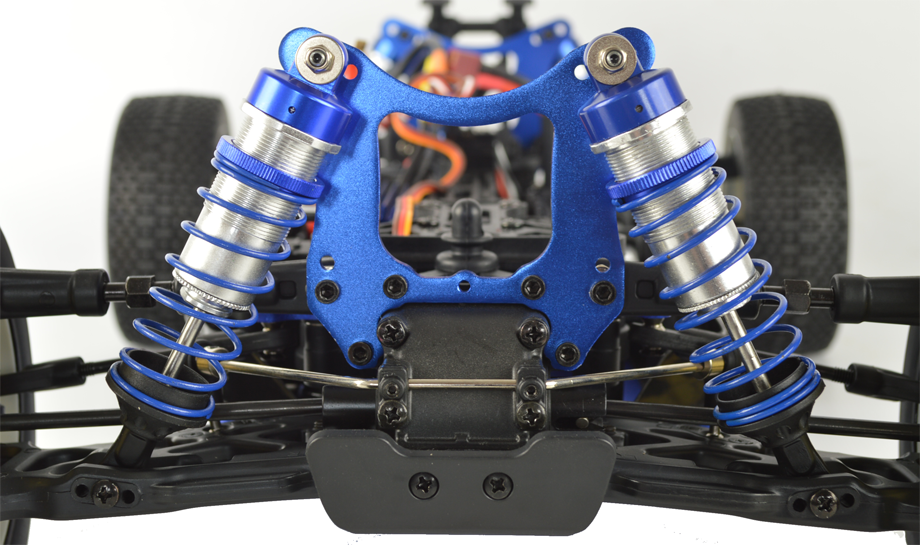 Extra informatie
Artikelnummer
A2015TPRO
Manufacturer
Acme-Tech
Schaal
1:8
Bouwen
RTR
Aandrijven
4WD
Voor Terrein
On Road
Radio Aparatuur
2.4 GHz
Type
Buggy
Motor / Engine
Brushless
Specificaties

Height: 185mm
Length: 505mm
Width: 310mm
Wheel base: 315~320mm
Track F/R: 310mm
Ground clearance: 30mm
Weight: 3000g
Radio: 2.4Ghz Pistol Type
Battery: 11.1V Li-Po With Charger
Motor: Brushless with ESC
Scale: 1:8

Functies

1/8 Scale brushless powered radio control car
Extreme High Speeds
2.4G Radio Equipment
4WD Shaft drive system
3 diff. shaft drive 4WD
2.5mm aluminium chassis
3mm F/R Alum. shock tower;
High-torque metal geared steering servo
Front universal drive shafts (pro version)
All linkages set with adjustable turnbuckles
Option for four disc brake system
Brushless motor, brushless 80A ESC
Li-Po battery and balanced charger
Plus many more. See below images for rest of features.

Heb Je Nodig Om Het Te Gebruiken
Vragen:
Er zijn nog geen product vragen
LEVERING INFORMATIE
Leveringskosten en tijd zullen afhangen van de grootte van de bestelde artikelen
RESERVEONDERDELEN
Zij zullen tussen de 2-5 werkdagen duren. De kosten zijn afhankelijk van het aantal onderdelen en de grootte.
Germany: €3.70 - €7.40
Spain: €7.40 - €13.30
France: €7.40 - €11.80
Ireland: €7.40 - €8.90
Italy: €7.40 - €13.30
Netherlands: €5.95 - €8.99
Portugal: €7.40 - €10.30
Denmark: 42kr. - 72kr.
Sweden: 52.80kr - 105.60kr
NORMALE GROOTTE MODELLEN
Dit omvat niet zeer grote voorwerpen zoals elektrische fietsen, grote scooters en quads. Levering duurt 2-5 werkdagen.
Germany: €7.40
Spain: €9.99
France: €8.99
Ireland: €7.40
Italy: €9.99
Netherlands: €8.99
Portugal: €9.99
Denmark: 72kr.
Sweden: 105.60kr
ZEER GROTE OBJECTEN
Zeer grote voorwerpen zoals elektrische fietsen, grote scooters en quads. Levering duurt 2-5 werkdagen.
Germany: €49.90
Spain: €49.90
France: €49.90
Ireland: €49.90
Italy: €49.90
Netherlands: €49.90
Portugal: €49.90
Denmark: 499kr.
Sweden: 499kr.
5 klanten-reviews
great

RobsRc July 12, 2013

Per

Very fast not for the light harted needs plenty of space and skill cheers Rob.

what a car!!!!!!!!!!!!!!!!!!!!

rodger July 26, 2012

Per

This car is really worth buying, it is great fun just dont do what i did with mine and take it out in the snow/wet grass/poudels. i would recromend that you do buy the pro version. this remote control car WILL go no more than 60MPH. thank you for reading this.

Amazing

Samuel July 13, 2012

Per

Wooooow

FANTASTIC!!

Angel face April 18, 2012

Per

Great car loved it!!!!! :D

Fantastic car

Lukar =t2 August 02, 2011

Per

Fantastic car, great at jumps... love it!!!!! =D